Harald Röder
Qi Gong Tao Institut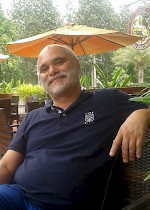 Contact
Hallplatz 23
90402 Nürnberg
0911 / 55 9999

http://www.Qi-Gong-Tao.de

Certifications:
Basic 2 - MCO, 3 Fires & Six Directions, Passing Energy
Iron Shirt I (IS1)
Iron Shirt III - Bone Marrow Nei Kung (IS3)
Healing Love (HL)
Tao Yin (TY)
Tan Tien Chi Kung (TT)
Tai Chi Chi Kung I - Yang Style (TC1)
Tai Chi Chi Kung II - Discharging Form (TC2)
Tai Chi Chi Kung III - Wu Style (TC3)
FUSION I (FU1)
FUSION II (FU2)
FUSION III (FU3)
Lesser Kan and Li (KL1)
Greater Kan and Li (KL2)
Greatest Kan and Li (KL3)
Instructor Levels:
Certified Instructor
Senior Instructor Level 1
Chi Nei Tsang III Practitioner - Tok Sen
Cosmic Healing 1 Senior Teacher
Inner Alchemy Immortality Senior Instructor
Responsibilities:
UHT Global Branch Leader - Inner Alchemy
Institut zur Förderung der Integration von fernöstlicher Meditation, Bewegungskultur und moderner Körperarbeit.
Qi Gong Tao nach dem UNIVERSAL HEALING TAO System nach Mantak Chia. Wir bieten Tao-Seminare, Lehrerausbildungen und wöchtentl. Gruppen an.
Entspannung und Lebenshilfe durch den Weg zur unerschöpflichen Quelle der Lebenskraft Chi.
Senior Instructor UHT,  Meditation Branch Leader
Cosmic Healing Chi Kung Senior Teacher, Inner Alchemy Senior Instructor
  Seit 1989 praktiziere ich das UNIVERSAL HEALING TAO (UHT).
  Seit 1995 bin ich Certified Instructor
  Seit 2006 Senior Instructor für das System.
  Ich wurde von Großmeister Mantak Chia persönlich ausgebildet und autorisiert, sein System weiterzugeben.     
Ich bin ermächtigt, Associate Instructors (AI) und Certified Instructors (CI) auszubilden und Associate Instructors zu Certified Instructors fortzubilden.
Darüber hinaus bin ich von Mantak Chia beauftragt, als Branch Leader den Meditationszweig des UNIVERSAL HEALING TAO zu betreuen. Auch heute noch stehe ich in engem Kontakt zu Mantak Chia.
An den Universitäten von Trier und Kiel studierte ich Psychologie, sowie Philosophie und Anthropologie. 1994 beendete ich mein Studium mit dem Diplom in Psychologie. Im Anschluss absolvierte ich Ausbildungen in tiefenpsychologischer und analytischer Psychotherapie sowie Körpertherapie.
Heute integriere ich moderne westliche und traditionelle östliche Methoden für Heilung und geistiges Wachstum.