Mantak Chia
Universal Healing Tao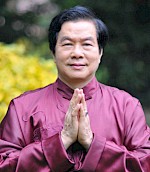 Kontakt
Lorenzstrasse 64a
12209 Berlin
+66 5392 1200
+6653 495852

+66 5349 5852

Certifications:
Iron Shirt I (IS1)
Iron Shirt II - Tendon Nei Kung (IS2)
Iron Shirt III - Bone Marrow Nei Kung (IS3)
Healing Love (HL)
Tao Yin (TY)
Tan Tien Chi Kung (TT)
Tai Chi Chi Kung I - Yang Style (TC1)
Tai Chi Chi Kung II - Discharging Form (TC2)
Tai Chi Chi Kung III - Wu Style (TC3)
Ba Gua Zhang I - Basic Form (BGZ1)
FUSION I (FU1)
FUSION II (FU2)
FUSION III (FU3)
Lesser Kan and Li (KL1)
Greater Kan and Li (KL2)
Greatest Kan and Li (KL3)
Sealing of the 5 Senses (SFS)
Congress of Heaven and Earth (CHE)
Reunion of Heaven and Man (RHM)
Instructor Levels:
Certified Instructor
Senior Instructor
Inner Alchemy Astrology Senior Teacher
Chi Nei Tsang Senior Teacher
Cosmic Healing Senior Teacher
Inner Alchemy Senior Instructor
Honorary Positions:
Founder of UHT System
UHT Council of 9 Board Member
Groß-Meister Mantak Chia unterrichtet ein- bis zweimal jährlich in Berlin und Frankfurt am Main, in Berlin wird er vom 10.–26. April 2020 sein.
Groß-Meister Mantak Chia wurde 1944 in Thailand als Sohn chinesischer Eltern geboren. Bereits im Alter von 6 Jahren begann bei buddhistischen Mönchen sein Unterricht in Meditation. Seine offizielle Ausbildung erhielt er in Hongkong, wo er von verschiedenen Meistern in Tai Chi Chuan, Kundalini Yoga und Aikido eingeführt wurde. Später reiste er durch ganz Südostasien und lernte von taoistischen und buddhistischen Lehrern geheime Shaolin-Techniken sowie den Umgang mit der inneren Kraft.
Sein Hauptlehrer war jedoch der Taoistische Meister Yi Eng, welcher ihn auch berechtigte, die Taoistische Energielehre zu unterrichten.
Er ist der Begründer des Universal HEALING TAO System. Geheimes altes Wissen wurde durch ihn erstmals dem Westen zugänglich gemacht. Über tausend von ihm ausgebildete Lehrer unterrichten heute weltweit Universal Tao. Nach zwanzig Jahren im Westen lebt Mantak Chia seit 1994 wieder in Thailand und hat dort ein einzigartiges Seminar- und Gesundheits-Zentrum erschaffen, den "Tao Garden" nahe Chiang Mai. Auf dem 80.000 m² großen Gelände werden auf qualitativ hohem Niveau die vielfältigen Aspekte des Tao umgesetzt. Gesunde Ernährung nach der chinesischen 5-Elemente Lehre ist Vorraussetzung und wird durch nach biologischen Gesichtspunkten selbst angebaute Nahrung erreicht. Die begleitende Entschlackung von Körper und Seele wird durch vielfältige Körperübungen und spezielle Massagetechniken verstärkt. Die Tao Garden Clinic stellt mit chinesischen Ärzten und vielfältigen Methoden der Entschlackung und Rekonvaleszens den medizinischen Teil dieses wunderbaren Ortes zur Verfügung.
Seine Lehre ist inzwischen weltweit bekannt und findet immer mehr Anhänger.
Bereits seit 1985 unterrichtet der Tao-Meister regelmäßig in Deutschland und gehört zu den erfolgreichsten Lehrern. Die von ihm veröffentlichen 223 Bücher und Schriften wurden weltweit bei 54 Verlagen herausgebracht.